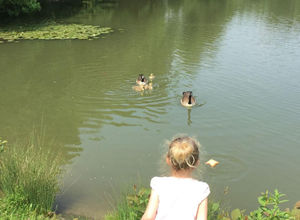 Fishery Facts
| | |
| --- | --- |
| Size: | 7 |
| Swims: | 20 |
| Record Catch: | 38lb |
| Average Catch: | |
| Carp Stock: | 200+ |
| Venue Record Common: | 38lb |
| Venue Record Mirror: | 35lb 8oz |
| Max Rods: | 3 |
| Other Species: | Tench, Pike, Bream, Perch, Roach and Rudd |
Combe Bank Lake
Book Day Ticket
Combe Bank Lake was originally two ponds, enlarged over 150 years ago to form one much larger lake. Today it is now approximately 7 acres but still consists of two very different halves. Divided by a spit the first half of the lake is very mature with an abundance of lilly pads, carpy overhangs and other interesting features, depth varies from two to five feet.

The second half of the lake is more open and the contoured bottom gives depth down to eight feet or so in places with the centre of the lake typically being gravel and six feet throughout. The margins tend to vary from three to four foot.

At the far end of the lake is the dam wall with the mature trees of Combe Bank Estate create a stunning backdrop. The fishery itself boasts a good level of carp to 36lb. We also believe there is still the odd original fish swimming around which has never been caught. Other species such as Tench, Bream, Roach and Perch can be found in abundance.