Welcome To Combe Bank Fisheries
Situated in the heart of Kent at the top of the Darenth Valley in the rolling hills of a former large country estate, lays our beautiful fishery 'Combe Bank'. Established for almost 400 years it was originally two smaller ponds and enlarged several years later in 1745. Halfway along its northern bank sits a disused old boathouse which can still be seen today. Combe Bank lies on the North-West side of the village of Sundridge which itself is on the edge of the market town Sevenoaks. The river Darenth flows from the West adjacent to the edge of the lake.

The fishery itself has had little pressure for many years and having only acquired it in June last year many of its residents are still unknown to us. What we do know is all the fish witnessed to date possess tremendous fighting qualities are in immaculate condition and some for sure have never previously been hooked.

If you would like to fish our venue you are welcome to visit, have a look around and ask any questions you may have. (Please ring 07496 535 880 to let us know when you would like to visit)
Book Tickets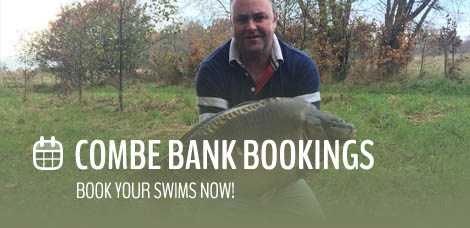 Lake Opening
I hope everyone is safe and well during this difficult time, As you are aware fisheries are able to reopen from tomorrow Wednesday 13th May. We feel that this is too early for us as we are still finishing off some works we are doing at the fishery. In addition there will be some temporary changes to the rules that we have put in place to help with social distancing and the safety of all concerned. We will reopen at 7am on Thursday 21st May and the following will apply.
(1) All bookings are to be made via the website via the online booking system at www.combebankfisheries.co.uk
(2) The bins will be removed and all anglers are to bring a black sack or equivalent to take your rubbish home with you. You are responsible for your own swim and we will be checking and expect this rule to be strictly adhered to.
(3) Hand sanitisers will be provided at the gates,please use them.
(4) Please bring additional antibacterial wipes/gel for when using the toilet and water tap. All other fishery rules remain in place and please remember to have a valid Environmental agency rod licence.
We look forward to seeing you all again out enjoying the sport we all love. Many Thanks Combebank
Moon Phases
Currently 12% illumination (waning)
February 13th
Last Quarter
February 27th
First Quarter
Current Weather
Videos
Latest Blog
As its been a while we thought we should update you on all that's been going on at Combe Bank Fisheries over the past few months. In the last blog we had just started the work on our new track and car park to the lake, this is now...read more
Quick Alerts
(1) All bookings are to be made via the website via the online booking system at www.combebankfisheries.co.uk (2) The bins will be removed and all anglers are to bring a black sack or equivalent to take your rubbish home with you. You are responsible for your own swim and we will be checking and expect this rule to be strictly adhered to. (3) Hand sanitisers will be provided at the gates,please use them. (4) Please bring additional antibacterial wipes/gel for when using the toilet and water tap. All other fishery rules remain in place and please remember to have a valid Environmental agency rod licence. We look forward to seeing you all again out enjoying the sport we all love. Many Thanks Combebank 14/05/2020
View past quick alerts by clicking here